Psychosocial impact of the COVID-19 pandemic on congenital heart disease patients and families
Sep 29-29, 2021
Virtual
Online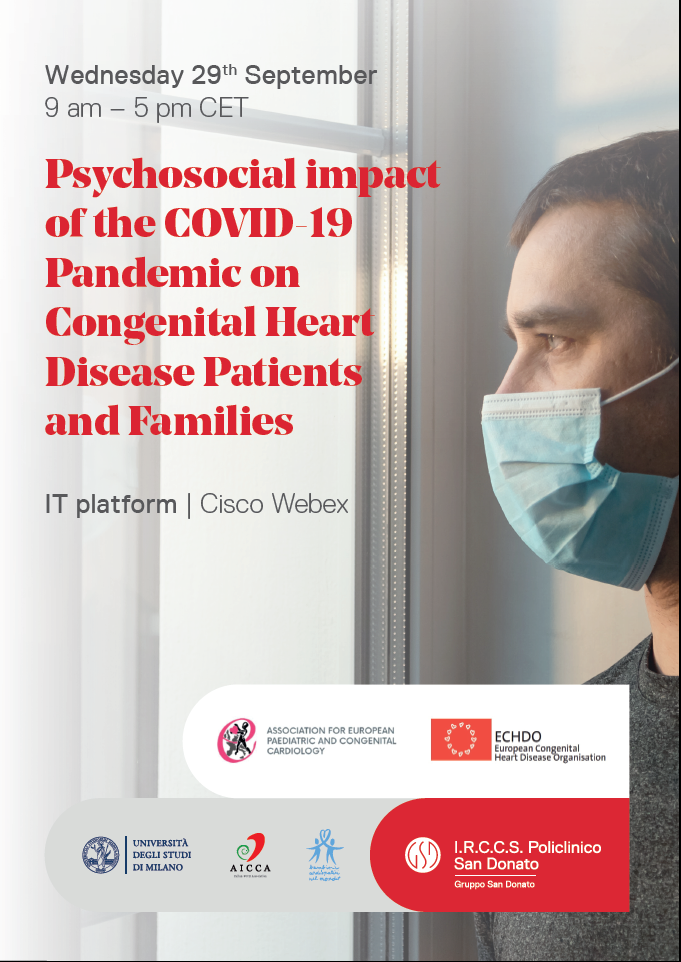 Dear colleagues,
On the 29th of September 2021, the Working group on Neurodevelopment and Psychosocial Care from Foetus to Adult organizes a webinar on "Psychosocial impact of the COVID-19 Pandemic on Congenital Heart Disease Patients and Families".
The webinar will take place from 9 AM to 5 PM (CEST). You are kindly invited to join this online meeting.
Visit the webpage to find out more >
You can download the official program here >
We welcome abstracts for oral presentations both regarding scientific research and clinical care, related to neurodevelopmental and psychosocial aspects of congenital heart defects, specifically referring to the COVID-19 pandemic.
There will also be a session dedicated to "Case examples of what worked in non-profit associations". We invite non-profit associations wanting to participate with a presentation to send us an abstract addressing the following points:
What difficulties did the association have and what did it have to stop doing?
What difficulties did the people with congenital heart disease and their families have in your country, and how did you deal with it?
What initiatives/activities were effective during this period?
The deadline for abstract submission has been extended to 30th of August.
We kindly ask you to forward this to your patient organisations and to all who might be interested in participating.
Best regards
Edward Callus
Katya De Groote
Frank Casey